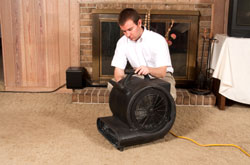 Roof Leaks? Plumbing Problems? Storm Damage? Sometimes an emergency situation arises and you need someone to help you pick up the pieces. Porter's Carpet Cleaners can come into your home or business and help remove excess water. We can remove wet carpet and carpet pads, your fine oriental rugs or area rugs, and we can dry your floors with our high powered air movers. We are here to help you restore your carpets and rugs when you need us.
Give us a call today at 798-8080!
Our water extraction and removal service starts at $165 per visit and $26 per day per air mover. Our pick-up service for wet rugs starts at $75.